20 Dec

How Does Hydro-Action Work?
MOTHER NATURE IS OUR TEACHER
The creators of Hydro-Action were looking for a way to provide an environmentally friendly, simple and effective way to dispose of wastewater and what better teacher than Mother Nature herself. By observing the environment around them the brilliant minds of Hydro-Action came up with the formula to use aerobic bacteria to break down solids in the wastewater thus causing a clearer effluent. This causes the Hydro-Action system to outperform archaic septic tanks by prolonging drain field life, emitting a cleaner effluent, and resolving issues like poor soil or high groundwater.
HOW IT WORKS
There are several tanks that make up the Hydro-Action system that perform various functions. First, the wastewater enters a pretreatment tank. The pretreatment tank's purpose is to reduce the amount of solids and other materials that continue on to the next tank. After the wastewater passes through the pretreatment tank it flows into the heart of the Hydro-Action sy
stem, the AP-500 Aerobic Treatment Unit (ATU), where it's time to get to work. The Aeration Compartment is comprised of a pump which injects air into the system, pushing it down flexible air lines and through the anchored diffuser assemblies to the compartment where oxygenation begins. This action of force feeding the aerobic bacteria oxygen causes them to multiply thus breaking down and cleaning the wastewater, naturally. Next, the oxygenated effluent enters the clarification compartment which is a conically-shaped area that separates clarified water from any remaining solids via a hydraulic pump. Any solid that remains returns to the Aeration Compartment for further breakdown until it becomes a clear and odorless effluent.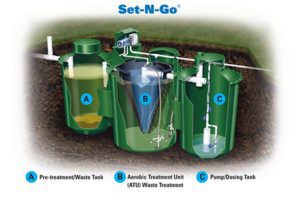 HOW WILL I KNOW IF SOMETHING IS WRONG?
The Operations Control Center (OPS) alerts the user through visual and audio signals if there is a fault in the system such as a drop in air pressure or if the system is too full. With wastewater management it is vital to stay alert to any problems that may occur as to not damage the surrounding environment which is happening with traditional septic systems. A certified Hydro-Action installer will be equipped to handle any issue that arises.
HYDRO-ACTION: GOOD FOR YOUR MIND AND FOR YOUR WALLET
Traditional septic systems can become very costly for your wallet and for the surrounding environment. Hydro-Action offers a superior efficiency in wastewater treatment for both residential and commercial applicants. "Hydro-Action is revolutionizing wastewater management with practical, green solutions that acknowledge our limited environmental resources. With smart fast-performing, aerobic technology, we treat water the same way nature does. The only resource we don't see as limited? Our quality".
Got Questions? We want to hear from you! Contact us today.